Science Links
What's happening overhead?
Astronomy and Aeronautics
Look to Dr Sky.


Here There Be Dragons.

10 monthly science links from San Francisco's Exploratorium

The script from the daily
astronomical radio show.

Gif animations from the
Visible Human Project, amazing.

Kitchen Science.
Wear your rubber gloves, respirator
and safety glasses kids.

Scientists tell you how and
answer your questions

Mathematician trading cards.
What are the odds of finding a Pikachu?

You will probably need to download
a VRML plug-in to see them,
but then you can turn 'em over
and poke their bellies.
Send me your Science Links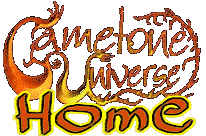 Entire Contents ©1998-2003 Gametone Universe
Please ask before reproducing anything.