These links will open in a new browser window.
Close that window to return to the Gametone Universe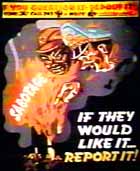 Propaganda Posters from around the world.
Hopi Prophesy to

planetwide conspiracies.

Urban Legends Is Walt Disney a Corpscicle? Someone Knows?
Scans of FOI and Court Documents.

Terence McKenna Land. Shroomy!
Morbid Menu

Vicarious Death

Coyle and Sharp interview the clueless.